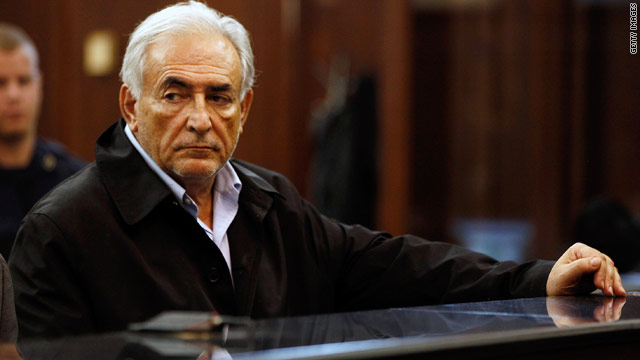 The IMF chief sits in jail
STORY HIGHLIGHTS
Strauss-Kahn made the remark in April, well before the alleged attack
Defense lawyers say forensic evidence will not show a 'forcible account'
Ruling French party: A replacement for Strauss-Kahn should be named
Poll: 57% of French respondents believe Strauss-Kahn is a victim of conspiracy
New York (CNN) -- Three weeks ago -- well before an alleged attempted rape in New York City -- International Monetary Fund head Dominique Strauss-Kahn discussed the possibility of a woman falsely claiming he attacked her.
In an interview April 28 with the French daily newspaper Liberation, Strauss-Kahn imagined "a woman who would be raped in a parking lot and who would then be promised 500,000 or a million euros to invent such a story," the paper reported in an article published Monday, two days after a hotel housekeeping employee said he sexually assaulted her.
Speaking to the paper about suggestions he could become France's Socialist Party candidate for president, Strauss-Kahn discussed "the long -- too long from his point of view -- campaign to come and the difficulties he will have to overcome," the paper reported.
"He sees three in the following order: 'Money, women and my Jewishness.'" He added, "Yes, I love women... so what? For years they have been talking about photos of massive orgies, but I have not seen anything... Why don't they show them!"
Prosecutors allege that on Saturday, the 62-year-old IMF chief chased a housekeeping employee naked through his posh Manhattan hotel suite, sexually assaulted and tried to rape her.

Strauss-Kahn: Brilliant or criminal?
Friday deadline for Strauss-Kahn case
Alleged victim's 'world upside down'
French anger over IMF chief in handcuffs
Strauss-Kahn faces an array of charges, including two counts of first-degree criminal sexual act, one count of first-degree attempted rape, one count of first-degree sexual abuse, one count of second-degree unlawful imprisonment, one count of forcible touching and one count of third-degree sexual abuse.
"He grabbed the victim's chest without consent, attempted to remove her pantyhose" and forcibly grabbed her between her legs, the complaint against Strauss-Kahn says. He also forced her to perform oral sex on him, Assistant District Attorney John McConnell said at Strauss-Kahn's arraignment Monday.
The 32-year-old hotel employee said Strauss-Kahn pulled her into a bedroom and started attacking her, police said. She fought him off, she told investigators, but he then dragged her into the bathroom and forced himself on her.
Afterward, the employee ran to the front desk, New York Deputy Police Commissioner Paul Browne said. Hotel staff alerted authorities.
Strauss-Kahn's defense attorneys paint a different picture.
"The forensic evidence, we believe, will not be consistent with a forcible account, and we believe there is a very, very defensible case," attorney Benjamin Brafman said during the arraignment.
Celebrity lawyer deemed 'perfect' for case
By the time police arrived at the Sofitel hotel on Saturday, Strauss-Kahn had left in the hotel limousine, according to a law enforcement source with direct knowledge of the investigation.
The IMF chief later called the hotel to say he had left his cell phone behind and asked if it could be brought to him, the source said. Investigators told the hotel staff to advise him the phone would be taken to him, and police went to the airport where Strauss-Kahn was boarding a flight to Paris.
Two plain-clothes Port Authority police detectives led him off the plane, the source said.
Defense attorneys dispute suggestions that Strauss-Kahn left the hotel quickly. They say he had a lunch appointment and that his flight to Paris had been booked far in advance.
The law enforcement source said Strauss-Kahn was examined for scratches and DNA samples were taken. Strauss-Kahn consented to the testing after investigators were prepared to execute a search warrant, the source said.
As one of the most powerful men in global economics, Dominique Strauss-Kahn was supposed to give the keynote speech at the Brussels Economic Forum in Belgium on Wednesday.
Instead, he sits in a New York jail cell. A Manhattan Criminal Court judge denied him bail Monday.
At New York's Rikers Island jail complex, Strauss-Kahn was placed on suicide watch -- a common procedure in high-profile cases, two sources with direct knowledge of the case told CNN.
Take a look inside Rikers Island

At this point, his career and political future are in jeopardy.

Head of IMF on suicide watch at Rikers

Who is Dominique Strauss-Kahn?

Arrest rocks French presidential race

Arrest of IMF boss leaves power vacuum
"I do not see how he can perform his duties as director of the IMF. So by definition, this issue should be resolved in the coming days," Jean-Francois Cope, secretary-general of France's ruling UMP party, told reporters Wednesday.
Thecame a day after U.S. Treasury Secretary Timothy Geithner said Strauss-Kahn is "obviously not in a position to run the IMF," and Austria's finance minister Maria Fekter said "he should think about whether he is damaging the institution," and consider stepping down.
Strauss-Kahn was widely viewed as a front-runner to unseat French President Nicolas Sarkozy in next year's elections, and the charges against him have left some French citizens thinking he is the victim of a conspiracy.
According to a poll released Wednesday by the Conseil Sondage Analyses (Council of Polling Analysis), 57% of French people think Strauss-Kahn was victimized.
Still, 54% said they think Strauss-Kahn's Socialist Party can win in the 2012 presidential race without him.
Scandals: When lust and politics collide
Strauss-Kahn's next court appearance is scheduled for Friday. His diplomatic immunity does not apply to the charges before him, IMF spokesman William Murray said.
The case has shaken the IMF, an organization of 187 countries working to improve world economies by providing loans and guidance.
First Deputy Managing Director John Lipsky has been named acting managing director, and the fund is continuing its work, IMF officials said.
A former French finance minister, national legislator and economics professor in Paris, Strauss-Kahn became the IMF's 10th managing director in November 2007. He is also chairman of the IMF executive board.
The alleged victim is a 32-year-old single mother living in the New York borough of the Bronx who moved to the United States from the West African country of Guinea. She had been working at the hotel for about three years, according to her attorney, Jeffrey Shapiro.
"Her world has been turned upside down," he said. "She is very scared about her future."
Shapiro said his client is cooperating with police and prosecutors, and would be willing to testify against Strauss-Kahn.
The accuser picked the IMF chief out of a lineup Sunday at a New York police station, saying he was the man who had sexually assaulted her, according to a law enforcement source with direct knowledge of the investigation.
CNN's Susan Candiotti, Ivan Watson, Adam Reiss, Richard Roth, Saskya Vandoorne, Caroline Paterson, David Ariosto, Raelyn Johnson and Jim Bittermann contributed to this report.
Source: http://edition.cnn.com/2011/CRIME/05/18/new.york.imf.head/index.html?eref=rss_topstories&utm_source=feedburner&utm_medium=feed&utm_campaign=Feed:+rss/cnn_topstories+(RSS:+Top+Stories)