From Mohamed Fadel Fahmy and Ian Lee, For CNN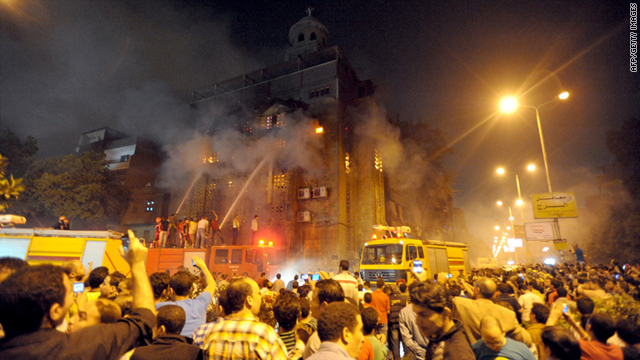 Egyptians gather as firefighters extinguish a blaze at a church following clashes at another church between Muslims and Christians in Cairo on Sunday.
STORY HIGHLIGHTS
NEW: Egypt's prime minister calls emergency Cabinet meeting over church attack
Clashes erupt over rumor of a woman held against her will, official says
At least six people are killed and 120 are injured in the clashes, government says
During the clashes, Muslims and Christians exchange gunfire, witnesses say
Cairo, Egypt (CNN) -- At least six people were killed and 120 injured in sectarian clashes outside a Cairo church, an incident officials say began over rumors that a Christian woman who converted to Islam was being held there against her will.
Witnesses said an armed group of Muslims marched on Saint Mena Coptic Orthodox Church, one of the oldest churches in Egypt.
During the clashes Saturday, Muslims and Christians exchanged gunfire, sending people running for cover, witnesses said.
"With my own eyes I saw three people killed and dozens injured," said Mina Adel, a Christian resident. "There's no security here. There's a big problem. People attacked us, and we have to protect ourselves."
Egyptian Interior Ministry spokesman Alla Mahmoud said in a statement that six people were killed and 120 injured, while
State TV said that 10 people died and 186 were wounded in the violence.
There were conflicting reports about who attacked the church.
Some witnesses said the group was made up of Muslim fundamentalists, known as Salafists. Others, including the ministry spokesman, said it was angry Muslims from a nearby mosque.
Mahmoud said the clashes were sparked by reports of a Christian woman who married a Muslim man and was allegedly being held inside the church.
Military, including special forces and riot police were called in to try to break up the violence, firing warning shots in the air, according to witnesses.
At the same time, at the nearby Coptic Church of the Holy Virgin, firefighters responded to a blaze that witnesses said appeared to have been started by the members of the same group that attacked the other church.
Hundreds of residents stood outside as it burned and two men were seen jumping from a window of the building, according to witnesses.
Across the street, residents standing outside the Al Wehda mosque blamed "thugs" for the violence.
"It was thugs who burned the church, not Salafists (fundamentalists)," said Jamal El Banan. "We never had such sedition before the revolution."
Egypt's Prime Minister Essam Sharaf on Sunday postponed a trip to Bahrain and the United Arab Emirates, calling an emergency Cabinet meeting to discuss the church attack, according to egynews, Egypt's official new agency.
Tensions have risen in recent months between Egypt's Muslim majority and its Coptic minority.
A Coptic church in the town of Alexandria was bombed on New Year's Day, killing 23 people -- the deadliest attack on Christians in Egypt in recent times.
Ten days later, a gunman killed a Christian man and wounded five others on a train in Egypt.
In November, a group with ties to al Qaeda in Iraq announced that all Christians in the Middle East would be "legitimate targets," as the group's deadline for Egypt's Coptic church to release alleged Muslim female prisoners expired.
The group's claim that the Coptic Church in Egypt is holding female prisoners is based on widespread rumors of Coptic women in Egypt converting to Islam and being detained by the church in an attempt to compel or persuade them to return to their original faith.
About 9% of Egypt's 80 million residents are Coptic Christians. They base their theology on the teachings of the Apostle Mark, who introduced Christianity to Egypt, according to St. Takla Church in Alexandria, the capital of Coptic Christianity.
The religion split with other Christians in the 5th century over the definition of the divinity of Jesus Christ.
Source: http://www.cnn.com/2011/WORLD/africa/05/08/egypt.clashes/index.html?eref=rss_topstories&utm_source=feedburner&utm_medium=feed&utm_campaign=Feed:+rss/cnn_topstories+(RSS:+Top+Stories)